GROW Bali has definitely ticked both of the boxes - where a majority of the fresh produce (apart from beef) used in their menu were sourced directly from a farm in the highlands of Kintamani, seafood 100% locally sourced and rustic pasta handmade from local semolina.
The menu at GROW also evolves with Bali's ever-changing seasons and is largely driven by the availability of fresh produce.
GROW BALI with Chef Ryan Clift - The ultimate farm-to-table "Bistronomie" dining experience.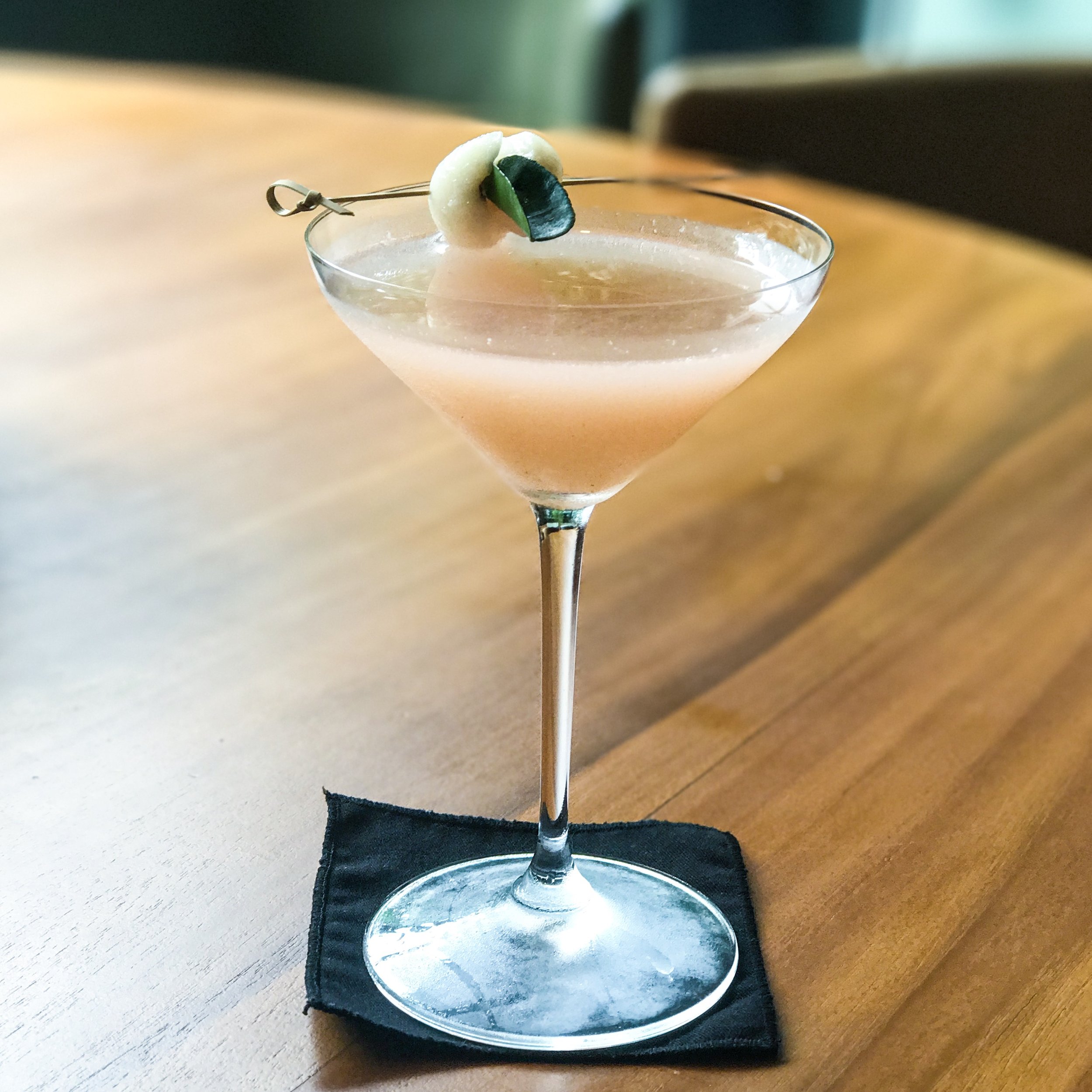 All photos were taken by NotSoBasic.Life.
My Experience:
Upon arrival, I was greeted with one of GROW's very own special veggie juice which consists of a good blend of local ingredients. Highly recommended - even if you're not a fan of drinking your greens because it is THAT good! Also, you can almost pretend that you're drinking Gin + blended cucumber ;)
Now on to the real drinks - I went with the "Dark & Stormy" theme and ordered the I THAI MARTINI (lychee fruit, lemongrass, kefir leaves, light rum, Campari, lemon juice) and GROW UP SANGRIA (bourbon, rye, homemade ratafia syrup, lemon juice). Both cocktails were amazing - I mean you can never go wrong with Martini and Sangria, right? ;)
Even though I went for the lunch set menu, it was still a tough decision when it comes to the menu selection:
Starter: Cucumber & Wild Herbs Gazpacho, poached scallops, charcoal cucumber!
Simple and refreshing but incredibly flavourful - be ready to experience a burst of flavours in your mouth with each spoonful you take.

Main: Roasted Pork Belly, green curry pea purée, braised red onion, fragrance of herbs, spice dressing
If you don't already know - Pork Belly and I have been a long love affair and it is one of my favourite pork dishes. This did not disappoint - the green curry pea puree was absolutely delicious and packed with flavours. This says a lot, coming from someone who does not appreciate green peas at all.

Dessert:
(Lucky for us - Chef Ryan decided to whip up all 3 of his signature dessert for us to share! Otherwise, it would have been a tough choice!)

White Quinoa with Fruit Salad, yoghurt and walnuts
Chocolate Sunday, warm chocolate fudge cake, chocolate ice cream
Basil and Lemon Tart, with crispy basil shortbread and fresh vanilla ice cream
My personal favourite was the Basil and Lemon Tart because of the unique flavour combination and the crispy basil shortbread was just 100%! I called it the next-level-pavlova!
If you're looking for a place with great ambience, scrumptious food and heavenly cocktails whilst supporting the locals when you're in Seminyak next - be sure to check out GROW Bali.
GROW @ L Hotels & Resorts
Jl. Raya Petitenget No. 8L Seminyak
- Petitenget 80361 Bali -
Indonesia Phone: +62 361 894 7908
Opening Hours: Mon - Sun: 7am – MidnightWrite here...
Adeline Er was invited to experience the GLOW Bistronomie Lunch menu as a guest.
All opinions expressed are my own.